Enhancing Social Security of the Family
Inter-state migrant workers (as defined in the Labour Codes) struggle to avail rights and entitlements as citizens as well as workers. Mostly employed in the informal domain without any social security, they have no one to rely upon in case of adversities. In a context wherein they are not even able to meet basic needs, there is hardly any support provided to the children for a healthy growth. We are significantly contributing to the nationwide efforts of mainstream migrant workers by directly impacting more than 30,000 workers every year through 08 centres. Our response includes access to social security schemes and enhancing their individual and collective capacities through working with all stakeholders – workers, their families, community agencies, district administration, state and central government and others.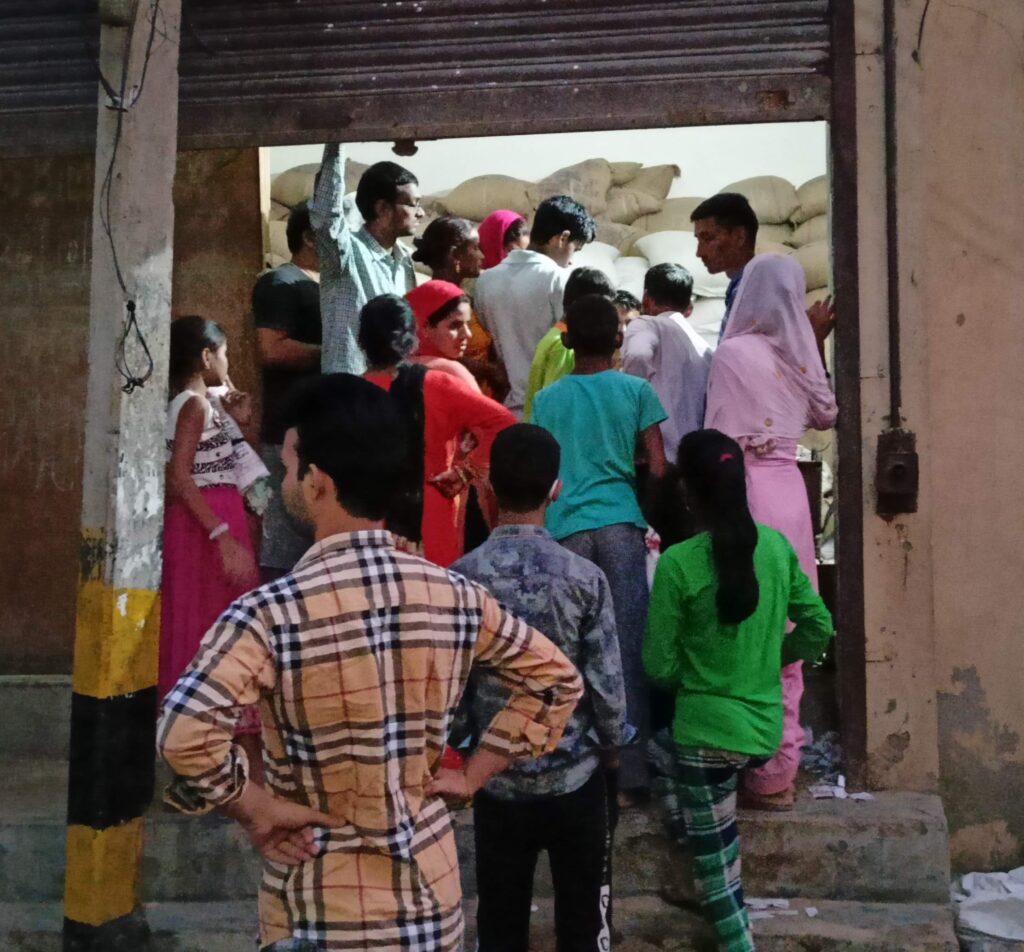 Pioneering facilitation of Public Distribution System for inter-state migrant families in India, leveraging One Nation One Ration Card (ONORC) Scheme
The One Nation One Ration Card (ONORC) is a scheme implemented in India to enable portable and seamless access to subsidized food grains through the Public Distribution System (PDS). It allows eligible beneficiaries to avail their entitled food grains from any fair price shop (ration shop) across the country, regardless of their location or place of residence. The ONORC scheme aims to provide greater flexibility and convenience to migrant workers and their families by ensuring uninterrupted food security.
Despite its implementation, the One Nation One Ration Card (ONORC) scheme has encountered significant underutilization nationwide. Based on our work with migrant families in Gurgaon, the reasons for this underutilization are as follows: a) Non-functional IMPDS site: 29% of the cases. b) Aadhaar not linked with Ration Card: 27% of the cases. c) Inconsistent opening of Ration Shops: 20% of the cases. d) Preference given to locals by ration depots: 14% of the cases. e) Missing ration details on IMPDS: 10% of the cases.
During the period from April 2021 to June 2023, we have successfully facilitated continuous access to ration through ONORC to 5747 families originating from different states. Additionally, we are enhancing the capacities of other organizations throughout India in terms of ONORC operations.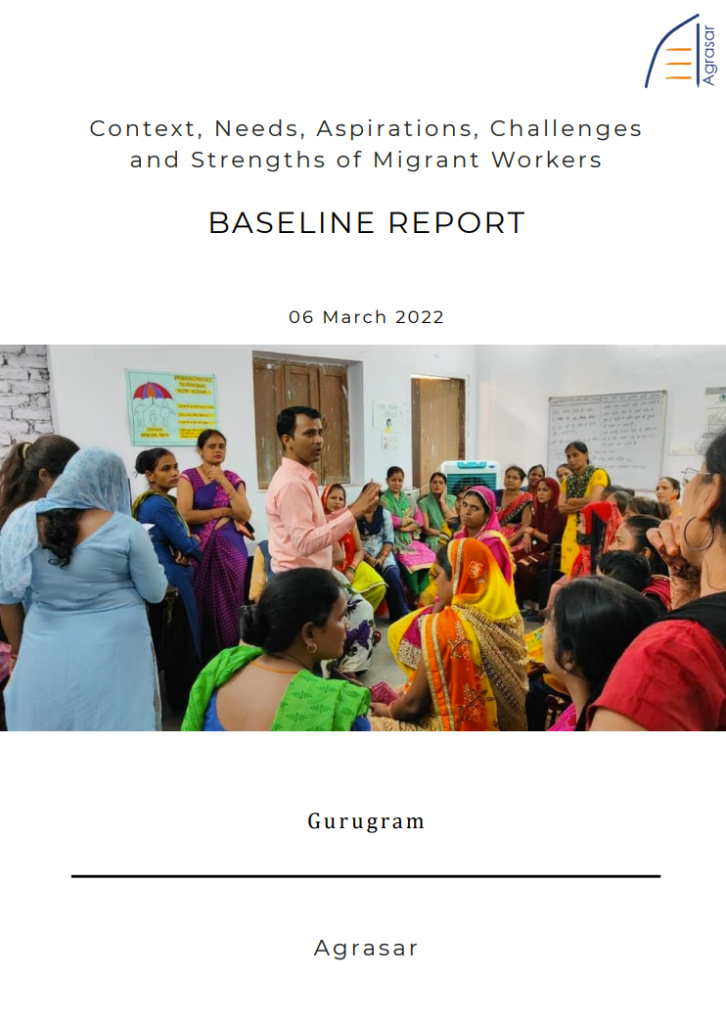 Report on Context, Needs, Aspirations, Challenges and Strengths of Migrant Workers | April 2018
We undertook a comprehensive study
 to 
understand the context, problem, needs, aspirations, challenges and leverages of change. Through this research, we came up with following 
Findings
1. 94% of the inter-state migrant workers are not connected to any government schemes. Rather, they are not even aware of any social security schemes except the newly launched and highly publicised e-Shram. More than 30% of them do not even have correct or updated identity documents.
2. Companies are highly resistant to register under ESI, PF and other labour laws. They find bypassing the compliances more viable than adhering to them.
3. "What is a conflict? What is injustice" itself needs a comprehensive and serious dialogue as the workers do not perceive striking unfreedoms and modern slavery as "part of their lives". 
4. Collective bargaining is zero. Connect with the city even after residing for years is weak.  
5. Action by community to get connected to a scheme or raising voice against an injustice after being engaged through workshops and direct facilitation is overwhelmingly encouraging. This can be leveraged to make a widespread change.
6. The process to avail any social security service is too complex for people with semi-literate backgrounds to maneuver by themselves. This leads to over-dependence and exploitation by the agents. 
1. Workers Facilitation Centres
We run workers facilitation centres inside the migrant dominated clusters/ colonies in destination cities that work on making, correction and updating of identity documents, opening of bank accounts and registering with relevant government schemes. Our team also ensures drawing of benefits through regular follow-ups with the registered workers. The centres also serve as "inspiring spaces" for people from different states as well as the locals to assemble, have joyful and deep conversations, celebrate festivals and feel more connected to the city. Collaboration with various social purpose organisations and government agencies is a key element in our work through centres.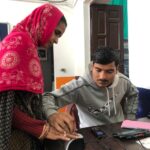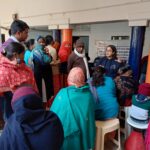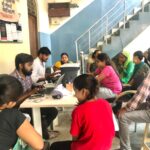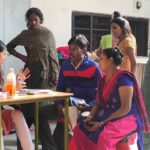 2. Enhancing agency among migrant workers
We encourage people to put in efforts by themselves in engaging with the government departments and other social development agencies like common service centres. The objective is to achieve sustainability of access to public infrastructure within 5 years of working in a particular community. For instance, obtaining ration through One Nation One Ration Card (ONORC) Scheme is now completely taken care of by the community itself supported by the community volunteers (Agrasar Saathis) in atleast 3 of our centres. Our team keeps a follow up with Saathis and ensure their consistent engagement with the community. financial and legal literacy workshops are regularly held with people.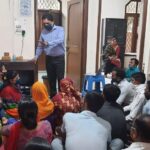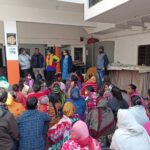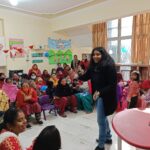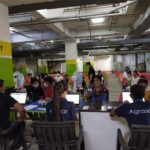 3. Collectivization for synchronised efforts
Within past decade, we have learned that people are not inherently against each other. It is just that a stasis has exists due to practices of last many years. Therefore, to break an unjust equilibrium and create a better one, we have to necessarily bring in all elements of the system together, and not against each other. We do this by forming collectives that include all actors – the workers, local administration, the industry, skilling agencies and the contractors – and designing solutions that create a win-win for all in the medium to long term. For instance, our collective of home-based workers and relevant actors in Gurugram is currently working towards increase in wages.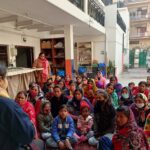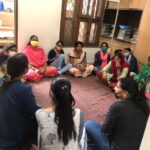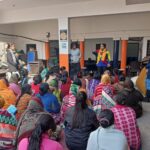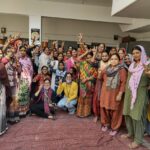 4. Strengthening Government Structures and Advocacy
Government of India and all state governments are rapidly moving towards democratisation of access to public services through Information Technology based solutions. However, the last mile connectivity, inter-departmental operability, contextualisation as well as customisation of service design and delivery remains a critical problem, especially for the inter-state migrant workers with lower literacy levels. Data generated through our work informs us that the smart phones have penetrated at an exponentially faster rate as a result of the covid lockdown and affordability of the technology. We are in the process of leveraging this situation through advocacy at all levels.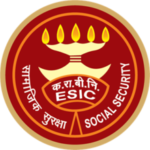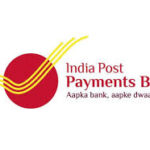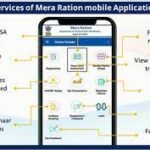 5. Encouraging debates on lives of migrant workers
The situation of migrant workers in cities is deplorable but has not been spoken much before covid tragedy struck the workers and shook us as a nation. Rather, migrant workers were considered "dangerous" for cities growth, without realising that they are the ones who actually build our cities and serve privileged families. We have also been witnessing that the hue and cry is dying down as fast as it had emerged. Therefore, we generate conversations and debates on the issue through community meetings and workshops with various social actors as well as using online mediums like blogs, petitions, polls, podcasts and others to reach out to wider audience.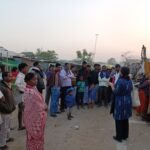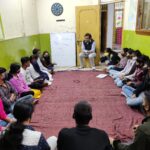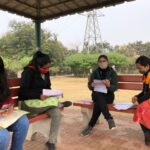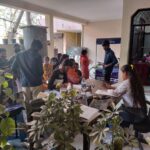 6. Adding value to upcoming body of knowledge in India
Migration as a domain of development theory as well as practice has picked up, especially after the covid lockdown. Various civil society organisations, research agencies, academic institutions and public entities have contributed on varied aspects of the lives of migrant workers. We are adding into this endeavour through assimilation of existing pracademic, field research as well as writing critiques of recently launched policies and platforms by the central and state governments. Through our well-established research cell, we provide reliable data and insights from the communities to decision making and influencing actors at various levels.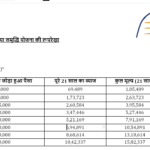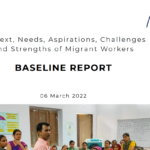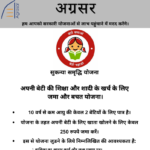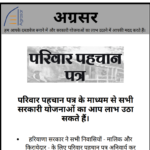 7. Handling cases related to unfair labour practices and related injustices
Even though we aim to ensure fair labour practices in regions we work in, the problem is huge and need time before we achieve the desired stage. Therefore, we deal with individual cases of varied injustices being met out to workers through collaborating with various stakeholders. We also have empaneled lawyers so that a swift action can be taken against varied complaints of unfair labour practices and breach of laws. The research cell has also developed a comprehensive case handling protocol that clearly defines roles of the facilitator and the lawyers. Lawyers have also been empaneled at State level in case the case goes to litigation in the High Court. The cell along with the lawyers is also developing a comprehensive law framework for quick reference by us as well as other social agencies.
Correction, updating or making new Identity documents : 2600
Access to Government Social Security Schemes : 22,700
Increase in Savings : 8500
Legal Support : 290
Enhancing awareness on Rights and Entitlements : 50,000
Collectivisation of workers : 400
Even though we conduct quarterly assessment as per the Monitoring and Evaluation Framework, a comprehensive Impact Assessment study is planned to be carried out in February 2023. It will be conducted on following parameters as per the program design and M&E framework: Asset building for better earnings, making use of Social Security Schemes for benefit, Self-sufficiency in engaging with government, Usage of ESI facilities for better health, Legal cases resolved, supporting fellow community members for access to Rights and Entitlements.
Blogs on migrant workers in Gurugram, NCR and India
"One Nation, One Ration Card Scheme" (ONORC) was introduced by the Ministry of Consumer Affairs, Food and Public Distribution as
Read More »
Sharing an experience of a lifetime. An attempt to explain ourselves the meaning of the term – "Resilience". I learnt
Read More »
Referred to as 'Lala' by his customers, Manoj runs a tea stall adjacent to one of the thousands construction sites in
Read More »